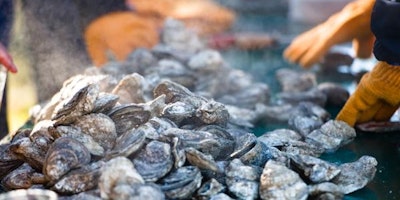 Low Country Inspired Oyster Roast @ Little Creek Oysters
Saturday, March 24, 2018 from 2:00 PM to 7:00 PM (EST)
More Information →
Shake off a little of the winter chill at our first ever Low Country inspired Oyster Roast!
We will be steaming off bushels of oysters, dumping them piping hot onto shucking tables for you to dig into!
A little hot sauce a little beer, some good company.  Hello Spring.
There are no seats and things could get messy!  Steam, oyster juice, mud and beer.  Dress appropriately.
Feel free to bring your favorite shucking knife or we will have them to use.  
All the oysters you can eat!
Admission is $15pp, collected at the door.  
Advanced tickets HIGHLY recommended to secure a space.
We are engraving a limited edition, rosewood handled, commemorative shucking knife made by R. Murphy Knives.   
RAIN DATE: March 25
MORE DETAILS TO COME!
Never seen an oyster roast? Get inspired!
Charleston Oyster Roast:
http://www.theseedandplate.com/content//how-to-host-an-oyster-roast
What to expect / What to wear:
https://www.thespruce.com/oyster-roast-faq-and-etiquette-1300651